How have demographic shifts since 2000 impacted access to resources for low-income communities of color?
Census Analysis Training Project
---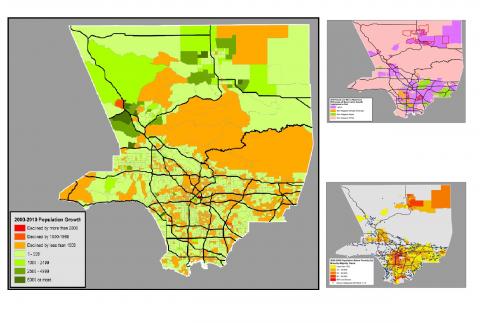 In 2010, the Advancement Project was deeply involved in census outreach efforts to increase response rates within traditionally hard-to-count communities. Once the Census 2010 process was complete, Healthy City began exploring the changing landscape in Los Angeles County and how those changes will have real policy implications around future community investment strategies. Based off these findings and the housing of the Census data on our online platform, a series of presentations was given throughout Los Angeles to engage community-based organizations, foundations, and policy stakeholders. The goal of these presentations was to show stakeholders how Census 2010 data indicate shifts in Los Angeles' growing multiracial population and how they substantially affect the region's infrastructure and investment needs. Presentations were tailored to the following communities: Long Beach, Palmdale, El Monte, and Pomona.
Shifting populations are inheriting an increasingly 'rundown' Los Angeles, an aging city with large service access gaps and inadequate nonprofit, health care and educational resources.
We found substantial movement and some growth in minority populations in Los Angeles County, the largest being Latino and Asian populations. Additionally, we identified new high-need racial enclaves have emerged in southeast Los Angeles (between the 710 and 605 freeways), east Los Angeles (along the 10 and 60 freeways), and in the Antelope Valley.
We made this data available and accessible to communities working on these issues.
In order to share this analysis and information, we created comparison Census tracts that people could access on HealthyCity.org. This enables the most accurate analysis for using data to better understand the changing demographics. We added 2010 Census data on the site so the demographic trends can be viewed with local services. We held conversations with local communities that were most impacted by the shifts and provided tools and training on the data.