How do we improve parks in South Kern?
South Kern County Youth Video Voice
---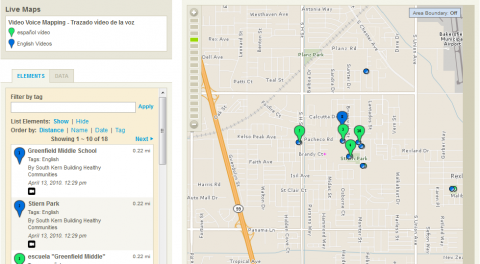 As Kern County Community Lead for the Central California Regional Obesity Prevention Program, Jennifer Lopez attended a training about using maps and data for advocacy. At that time, she and a group of youth leaders from the communities of Greenfield, Lamont, Arvin, and Weedpatch had gathered videos about their experiences at local parks for a project with California WALKs, a statewide pedestrian advocacy group. They used a participatory video research process they called Video Voice. They filmed videos showing dangerous power lines, poor play equipment, shopping carts used as soccer goals, and abandoned homes used as recreational space because the schools that had equipment, locked up their facilities after school.
Documenting and sharing experiences
The youth made videos in Spanish and English so that all parents in the community could understand what their children were experiencing. They used HealthyCity.org to show their stories on a map and to share them with community members and decision makers. They used the video and map to give an online tour of parks with graffiti and poorly maintained equipment, sharing the conditions they faced. They not only highlighted the problems, but offered solutions on how to improve these parks.
Advocating for community change
Armed with data, videos, and a passion to see change in their community, they created a conversation between local decision makers and community youth. Empowered by their own voice and skill in using digital storytelling and mapping, these youth now travel across the state teaching youth and adults how to use these tools to advocate for quality resources in their community.
Want to see their story? Click here.